The internet should be open to everyone. TrueDome® is a feature that allows you to use TrueVPN in restrictive regions with no issues over a military-grade encryption.
Virtual private network (VPN) blocking refers to methods that prevent the use of VPN tunnels to communicate with other people, machines, or websites. A VPN encrypts data that travels between two parties and gives users a different Internet Protocol (IP) address. This provides users with privacy and security.
However, for reasons discussed below, governments and organizations sometimes want to prevent the use of VPNs. This leaves some users figuring out ways to unblock VPN connections so they can enjoy secure, discreet connections.
Why Do VPNs Get Blocked?
Government Censorship
Governments sometimes do not want their citizens to access certain websites, so they block these sites. With a VPN, it looks like your IP address is outside the country, making your access look legitimate. To counteract this, some governments block VPNs.
Copyright
People sometimes copy a movie and upload it to a website that allows users to download content, such as a torrent. People who download or upload the content may try to hide their identity with a VPN, so copyright holders may try to block VPNs to prevent illicit dissemination.
Streaming Location Restrictions
If you have ever been to Mexico and tried to use Netflix, you may quickly see that the movies available there are different than those you can access in the United States. For this reason, people often use VPNs to get a United States IP address. When Netflix sees a U.S. IP address, it shows the same content you would get if you were physically in the States.
School and Workplace Restrictions
Sometimes employers or school administrators do not want employees or students accessing certain sites while at work or school, so they ban the use of VPNs on the business's or school's network.
Types of VPN Blocking
IP Blocking
With IP blocking, a company or person will collect a list of IP addresses connected with VPN services. All of these IP addresses will then be blocked on the network.
Deep Packet Inspection (DPI)
Deep packet inspection (DPI) checks the data packets moving through the traffic going to and from a device. In this way, an organization or government may be able to figure out if you are using a VPN and stop your activity.
Port Blocking
It is possible for a firewall to block certain ports, specifically ones that VPNs use. If your data travels through one of the blocked ports, the firewall will not allow it to pass through, preventing you from communicating using your VPN.
Introducing TrueDome®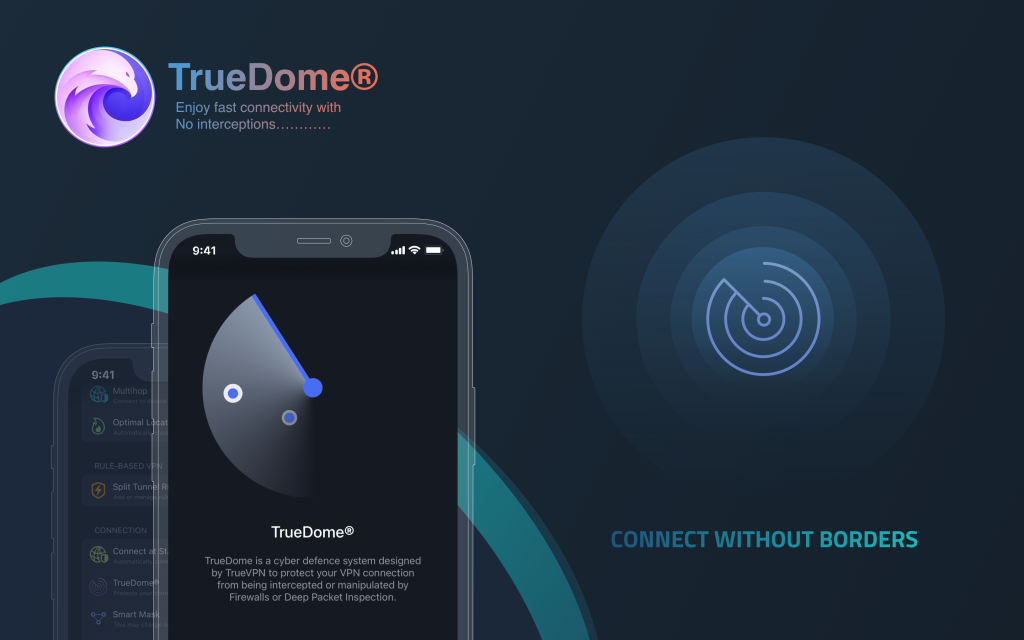 TrueDome is a cybersecurity defense system developed and built-in by-and-to TrueVPN to protect users from interceptions using Deep Packet Inspection and other cyber threads.
The internet should be open to everyone. TrueDome® is a feature that allows you to use TrueVPN in restrictive regions with no issues over a military-grade encryption.
Normally, TrueDome® mode will turn on automatically whenever needed. However, you can turn it on manually as well. For instance, If you live in a country which VPN connectivity is blocked, You can turn on TrueDome® to bypass blocking.
Learn more about TrueDome from this guide.
TrueVPN started to roll-out TrueDome to its apps starting with iOS and macOS apps.
Benefits of TrueDome®
As interceptions from Deep Packet Inspection becomes really noticeable issue to user's rights to privacy, TrueVPN stands here to defend your rights to privacy.
TrueDome comes with lots of benefits, from bypassing VPN blocking to Protect your data from being intercepted by Deep Packet Inspection.
Normally, TrueDome will be activated automatically whenever needed. However, you can turn it on manually from TrueVPN options as well.
Do i Need TrueDome?
For some reasons, specifically for people who look for security overall, Here's a list of what TrueDome feature can help you with.
Protects you from Deep Packet Inspection
Protects you from sudden VPN drops
Can even help your connection to bypass VPN's Firewall blocking.
Protects your data from being leaked.
How to Turn ON TrueDome?
Now, Here's how to safeguard your VPN by enabling TrueDome
Open TrueVPN's iOS or macOS App
Then login into your account.
Go to TrueVPN Options
from TrueVPN app, Tap on your picture to go to settings, then Go-to VPN & Network options.
Enable TrueDome
Toggle the switch to ON to enable TrueDome.
Where to Find a VPN with TrueDome?
As mentioned, TrueDome is built by TrueVPN team and built with every single release of TrueVPN app across supported platforms.
If you don't have TrueVPN installed on your device, You should start to protect your device now by downloading TrueVPN from AppStore.