One of the world's most fastest VPNs on the market is getting a serious upgrade. TrueVPN has announced the roll out of a new technology using the TrueLayer protocol, which is set to improve speed and security substantially, and TrueDome which is set to protect its users from interceptions caused by Deep Packet Inspection.
As technology keeps growing so fast, VPNs becomes really essential these days, VPN providers started to focus on how to improve their services to keep up with such a grow of technology.
What is a VPN?
If you don't know what is a VPN, A virtual private network, better known as a VPN, gives you online privacy and anonymity by creating a private network from a public internet connection. VPNs mask your internet protocol (IP) address so your online actions are virtually untraceable. Most important, VPN services establish secure and encrypted connections to provide greater privacy than even a secured Wi-Fi hotspot.
Why Using a VPN is Necessary?
A VPN can help secure that critical connection. A VPN adds a layer of protection to your online activities by routing your traffic through an encrypted tunnel between you anyone who tries to spy on you.
A VPN can be used to :
Bypass geographic restrictions on websites or streaming audio and video.
Watch streaming media like Netflix and Hulu.
Protect yourself from snooping on untrustworthy Wi-Fi hotspots.
Gain at least some anonymity online by hiding your true location.
Protect yourself from being logged while torrenting.
Story Behind TrueVPN
If you have not heard about TrueVPN before, TrueVPN is one of the world's fastest VPN providers which provide a strict zero-log privacy policy.
When it comes to security and fast connectivity, TrueVPN is truly powerful, I haven't turned it off since I downloaded it.

Emma Davis
Learn more about TrueVPN from this story.
However, TrueVPN team have been working since a while to keep up with today's standards and to maintain the main vision of TrueVPN.
What makes users loves TrueVPN so much is network coverage and VPN speeds, TrueVPN offers up to 13K 10-Gbps servers deployed in 90+ countries, which is a step a head of most VPN providers.
Introducing TrueVPN — 5th Generation
TrueVPN's 5th generation update comes with brand-new technologies and even larger VPN network, yet the largest VPN network on the planet.
The company announced that they have rewritten its apps from scratch with focus on security, fast connectivity and ease of use, while also bringing a new way of delivering modern technology to customers.
Skytells Inc. — The company behind TrueVPN started to roll-out this update to its iOS & macOS users, as to push its update to its other platforms later this month.
What's new in TrueVPN?
Brand-new design and animatable UIs.
Introducing TrueLayer® — Our own modern VPN protocol.
Multi-hop — Connect to double VPNs at once.
TrueDome® — Protect yourself against interceptions.
SmartMask — Intelligently connect over obfuscated layers.
Effective KillSwitch — Protect your traffic from sudden drops.
New VPN locations deployed in 90+ countries.
Widgets of TrueVPN got new updates.
SafeWeb — Surf clean websites privately without ads.
Use TrueVPN in many languages.
Ability to choose nearest or fastest location.
TrueVPN now relies on its own private DNS.
Split-Tunnel — Manage your rule-based connection.
More than 26+ additional new features.
Innovative Technologies Offered by TrueVPN
Let's talk about some important features which are introduced within this update.
We will cover only 7 of announced 26 new features embedded with the update starting with ability to connect to a double VPNs at one.
Multi-Hop
TrueVPN supports multi-hop connections, which it calls Double VPN. This routes your connection through a second VPN server instead of just one. That way, if one leg of the connection is somehow compromised, you can rest assured that your connection is still secure.
TrueLayer®
At the announcement of the 5th generation of TrueVPN, The company has begun rolling out a new VPN protocol called TrueLayer to its users.
TrueLayer is a brand new protocol developed by TrueVPN and built around the WireGuard protocol which will significantly improve VPN speeds for its users.
TrueDome®
TrueDome is a cybersecurity defense system developed by TrueVPN to protect users from interceptions using Deep Packet Inspection and other cyber threads.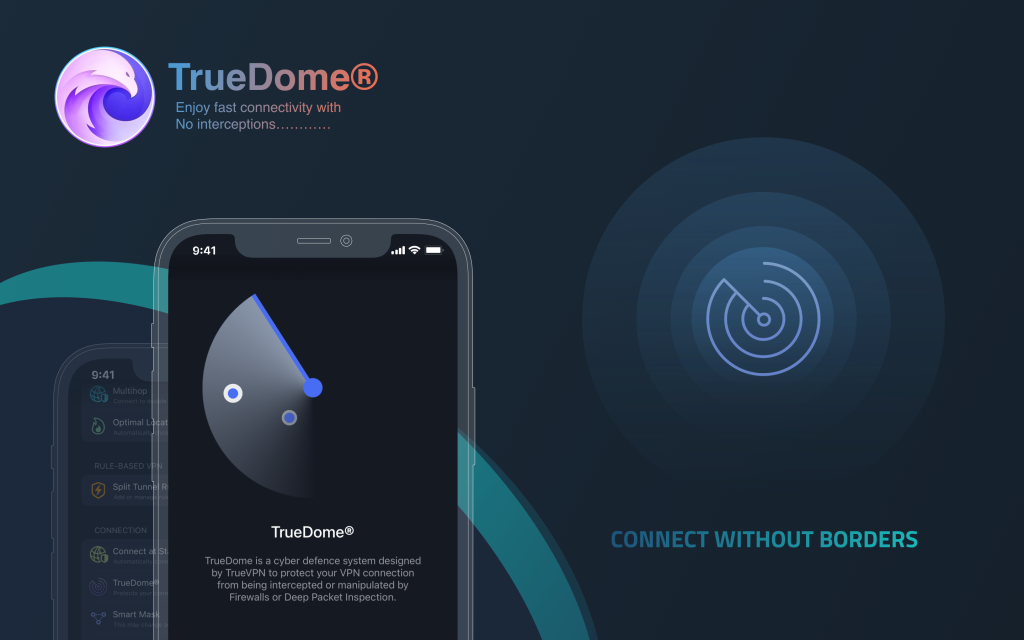 The internet should be open to everyone. TrueDome® is a feature that allows you to use TrueVPN in restrictive regions with no issues over a military-grade encryption.
Normally, TrueDome® mode will turn on automatically whenever needed. However, you can turn it on manually as well. For instance, If you live in a country which VPN connectivity is blocked, You can turn on TrueDome® to bypass blocking.
Learn more about TrueDome from this guide.
Onion Over VPN
Onion over VPN refers to the use of the Tor browser and VPN software simultaneously. It is a privacy solution designed to add an additional layer of encryption by passing your internet traffic through a VPN server before it reaches the Tor Network.
It's not that hard to use Tor with a VPN — you just need a trustworthy and secure VPN provider (and the Tor Browser, obviously). Here's a short guide using TrueVPN.
Create a TrueVPN account with a paid subscription.
Go to TrueVPN options then > VPN & Network
Enable Onion Over VPN
Finally, Connect to a VPN server. That's it!
Advanced AdBlocker
TrueVPN comes with built-in advanced AdBlocker system named TrueBlocker to increase user security and privacy to the next level.
TrueVPN's TrueBlocker is able to block cyber threads, ads, trackers and even YouTube ads with the ability to control blocking from its Widget.
TrueVPN's VPN Protocols
There are many ways to create a VPN connection. TrueVPN offers the following protocols :
TrueLayer® It's own VPN Protocol
WireGuard® — Modern and fast
OpenVPN (TCP / UDP )
The excellent IKEv2 protocol
IPSec
Speed and Performance
Generally, using a VPN lowers your upload and download speeds while increasing your latency.
TrueVPN is powered by a 10Gbps network which delivers insanely ultrafast VPN speed across many VPN location for better latency.
Ping: Ping measures how long it takes for a website to respond. It's measured in milliseconds (ms). Low ping rates mean faster connections.
Download speed: This measures how quickly a page loads, measured in megabits per second (Mbps). The higher it is, the faster your connection will be. If you're just browsing and sending emails, you won't notice a low download speed. However, low speeds become a problem if you're streaming, gaming, or downloading large files.
Upload speed: Your upload speed measures how quickly you can send data to others. Similar to your download speed, this is measured in Mbps, and the higher it is, the faster your connection will be.
On to test results!
We found download speed was barely affected. We only lost 0.6 Mbps, upload speed was reduced, but this change wasn't noticeable. It still felt as fast as having no VPN, ping rate increased because the server we connected to was farther away, but it was still on par with the other VPNs we tested.
When connecting to US servers, many VPNs cause speed drops of 82% or more — but TrueVPN only caused a decrease of 0.31%.
Your Privacy With TrueVPN
If it desired, a VPN company could examine every bit of information passing through its system. TrueVPN is honored to offer a strict zero-log privacy policy.
The TrueVPN privacy policy states that the company does not log connection time stamps, session information, used bandwidth, traffic logs, IP addresses, or browsing data. Note that the company does not profit from the sale of user data. The company does not generate revenue from sources other than customer subscriptions.
Also, TrueVPN are one of the few VPNs which completed an independent security audit with no security issues found.
Download TrueVPN
TrueVPN apps are available for iOS, iPadOS and macOS on AppStore.
You can download TrueVPN app and using it with basic features for free, then if you love it, you can decide if you want to upgrade to a paid subscription.
Works on iOS, iPadOS 12.0 and later, macOS 10.12 and later.
Is TrueVPN available for Android?
TrueVPN is available for iOS, macOS and iPadOS at the moment, With a plan to release the android app later this year.
How to download TrueVPN?
TrueVPN is available on Apple's AppStore
Is TrueVPN Free?
Yes, TrueVPN offers a free subscriptions with basic options and users have the ability to upgrade at anytime.
Conclusion
When it comes to Privacy and modern technology, TrueVPN is a great value here, You'll get an advanced security features, Larger VPN network and advanced AdBlocker built-in with TrueVPN apps for just a $3 a month, you can start free with basic features and if you loved it you can decide to upgrade at anytime.