From the creation of TrueVPN, to the moment we published our first release on AppStore, We were listing to our beloved users though the feedback board or AppStore reviews, since our primary focus on security and privacy what makes TrueVPN a truly trusted VPN. we decided to jump to the next level.
So, We're pleased to introduce our new generation of TrueVPN for iPad
TrueVPN for iPad
Of course with TrueVPN your privacy is always yours, your data will be encrypted and your online browsing will remain completely anonymous, private and secure wherever you are.
For that, And to maximize security and privacy to support more users who loves TrueVPN.
We've developed a special release only for iPad users.
The TrueVPN version 2.x and later support an iPad app with the same features as provided to the iPhone & iPod Touch users.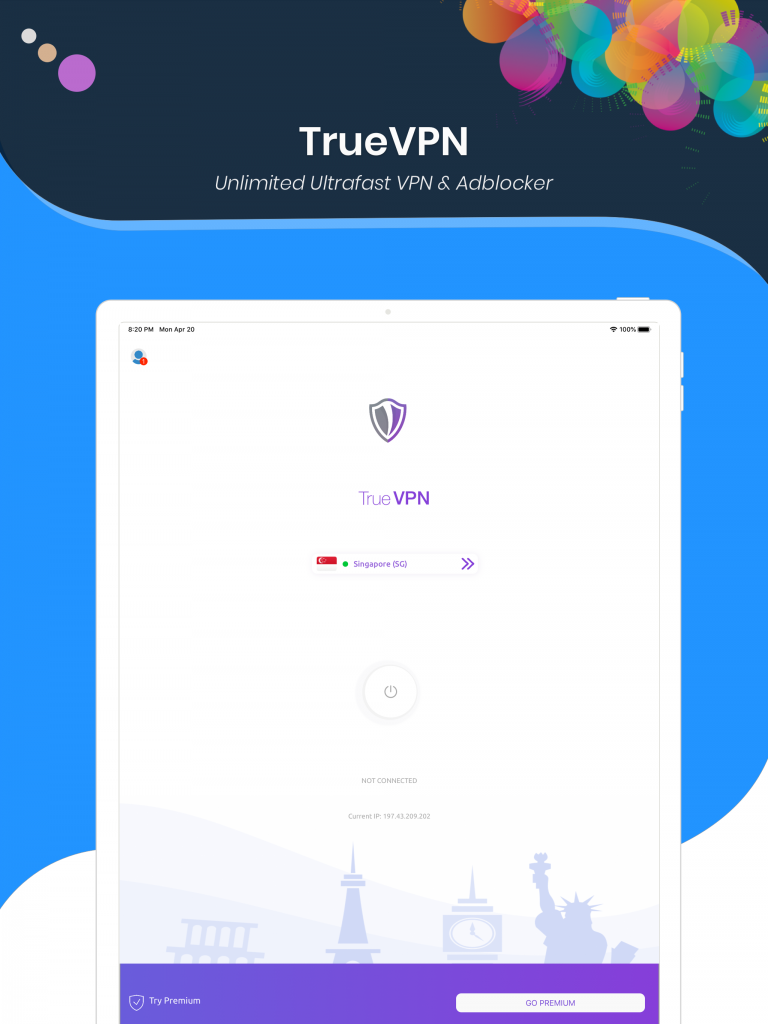 With TrueVPN for iPad, You'll have the same features which featured for iPhone app, Plus you'll have extra features just for iPad users, We'll cover this features down below
TrueVPN's iPad App's Extra Features
In addition to the core functionality for TrueVPN, We're pleased to announce the following features for iPad users.
Easy to use UserInterface
Motion Detection
Multitasking Support
Enterprise VPN support
Force-Privacy Respect – Block Ads, Trackers & Analytics sites on Safari or even within apps.
New Features for Both iPhone & iPad App
Of course this release comes with more exciting new features for both platforms iOS & iPadOS
• Dark-mode: We're excited to announce dark-mode support on TrueVPN.
• Firewall Widget: A brand-new widget to control your firewall & AdBlocker
• VPN Protocols: Now, You'll be able to choose your preferred connection protocols.
• Force Respect: A brand-new mechanism to block trackers & analytics services.
• Speed-test: A Brand-new feature to test your connection speed within the app.
• Trial Period: Try Premium features for 3-days free of charge.
• Enhanced pre-connection checks mechanisms
• Updated filters for TrueBlocker for better Privacy
• Added more +6 especially-made VPN servers for Streaming and Gaming
• Enhanced mechanisms to choose the fastest server automatically
• Widgets improvements
• Connection stability and enhanced firewall rules
Get TrueVPN
Of course you can get TrueVPN for iPhone & iPad for free from Apple's AppStore.
Requires iOS 11.0 or later. Compatible with iPhone, iPad, and iPod touch.
With Family Sharing set up, up to six family members can use TrueVPN.

Is TrueVPN Available for Android?
Well, As TrueVPN's focus on security, we do not have an official app yet on Google Play or anywhere else except AppStore, The only official TrueVPN app is available on AppStore.
Why Not Android?
Ok, Let's be clear, The Android platform was designed to support VPN protocol like PPTP or OpenVPN, While PPTP protocol is not secure enough to grantee the maximum security standards for our users, it can't be passed though our Quality-Control standards.
If we decides to use OpenVPN to be our primary protocol, users may experience some issues when connecting to our servers due to legal restriction and DPI (Deep Packet Inspection) in some countries like China, Egypt, Syria.
Will TrueVPN Rolls out it's version for Android Later?
We're working on it, Our primary focus is to use a secured protocol, so we decided to use WireGuard as our next protocol implementation for an Android app, And of course, We will inform our users if and when that happens.